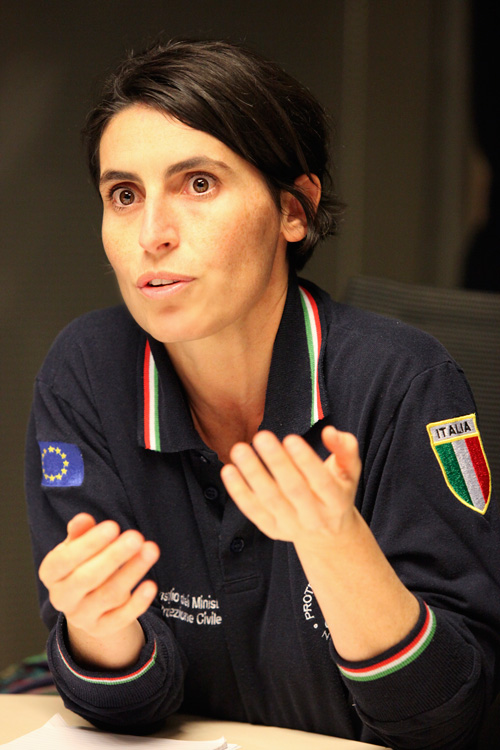 Titti Postiglione is currently responsible for the Office of volunteering, training and communication of civil defence, after almost three years at the head of the Sala Situazione Italiana, the national operations centre for civil defence.
A vulcanologist from Salerno, 44 years old, in civil defence for the past 16 years, Titti has been involved in the handling of all the major emergencies affecting Italy, from eruptions of Etna to the tidal wave in Stromboli, the earthquake in San Giuliano di Puglia to the Tiber floods, from SARS to power cuts, the 2009 Abruzzo earthquake to those affecting Emilia Romagna, Lombardy and Veneto in May 2012.
She was head of the Italian mission for the civil defence operation in Pakistan following the earthquake in November 2005, was involved in humanitarian programmes in South Sudan in 2005-2006, and was part of the first team charged by the European Commission and the United Nations to evaluate emergency operations in Indonesia in June 2006 after the eruption of Mount Merapi.
She is employed in the organisation and management of large-scale events entrusted to the civil defence service, from the signing of the European Constitution in Rome in October 2004 and the funeral of Pope John Paul II in April 2005, to the G8 summit in L'Aquila in 2009.
In recent years she has focused particularly on communication of risk in emergency situations, and on raising awareness of the role of civil defence. She heads the national campaign "Io non rischio – buone pratiche di protezione civile", and is also responsible for the Department of Civil Defence's Contact Centre and national programme "#socialprociv".
For her dedication in Abruzzo, in recognition of her competence, professionalism and deep commitment to the coordination of rescue and assistance operations for the victims of the earthquake, Titti received several awards, including a special prize for civil and social commitment form the Marisa Bellisario Foundation, and a special "Transatlantic Award" from the American Chamber of Commerce in Italy.
She was awarded a silver medal by the Italian Red Cross for her services as reference point for national operations during the handling of the emergency in Abruzzo.
She was also honoured by the President of the Republic with the title Cavaliere della Repubblica.